Furniture for offices and hotels
"Perpetum Mebeli " is specialized in wholesale and retail of high-quality office and hotel furniture, as well as office chairs and armchairs, cabinet soft furniture and office partitions. Our production quality allows us to compete succesfully with leading furniture manufacturers series.
Our produsction is:
the effective and strict color solution, which will give new properties of the office space;
the universality and economy, allowing to optimize workplace composition.
the adjustable supports for all products.
We constantly extend our product line. We offer you to solve your interior problems qualitatively and quickly due to constant product availability in Moscow.
Our production is ecologically clean and have hygienic and correspondence certification. Our guarantee regarding all of our products.
We place high emphasis on service policy, therefore you'll receive the comprehensive service: delivery, furniture assembling, interior design, consultation etc.
We have special prices for our dealers, comprehensive transport logistics service, advertising suport will inform you about the best price offers and delivery time and rates.
---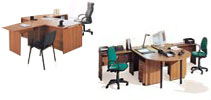 We offer a high-quality office furniture, as well as office chairs and armchairs, cabinet soft furniture and office partitions
---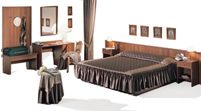 Our futniture for hotels and pensions is a new product line, allowing you to achieve the organic combination of economy and funcionality, that can be used in different hotel numbers